Lesson:
Pass the Relevancy Test
Lesson Content
At this point, you've done your research, asked a number of important questions and developed a set of HR metrics. However, you must take step number 4, ensuring your metrics pass the relevancy test.
Are you familiar with the concept of SMART goals? Just in case you aren't, SMART is an acronym used to identify the best method for setting a goal.
The S stands for Specific, the M for Measurable, the A for Achievable, the R for Relevant and the T for Time bound. It is typically attributed to Peter Drucker who developed the Management by Objectives concept. For more information, watch my course titled Performance Management: Development and Deployment.
Back to metrics, the relevancy test is similar. Like a good goal, a good metric will meet a set of criteria. The criteria is meant to guide the development of the metric and even test its credibility. There are four components. I call these the 4 "must haves" of metrics!
"Must have" number 1, a metric must be simple, easy to understand and easy to measure. However, you decide to show or illustrate a metric, you and your department leaders should recognize its meaning very quickly. It shouldn't take additional graphs and data to explain it. In many stances, I've seen departments use a green/yellow/red light system.
In a program like Microsoft Excel, for example, cells can be conditionally formatted to appear as either green, yellow or red depending on the number and information typed into the cell. Green is a positive indication. It should signify an achievement or that a metric is healthy. Yellow is a warning. Whatever the number or calculation, if it appears yellow, it is off target or maybe in trouble. And finally, red. Red is meant to get your attention. Not only has the goal been missed but there may still be a problem.
Speaking of additional graphs and data, you shouldn't be spending hours calculating the metric. Being simple also means having a straightforward method of determining the number. So whether you're adding, subtracting, dividing or multiplying, it doesn't need to be complicated just accurate. In connection to the 1st "must have" is the 2nd "must have", a metric must be manageable. Your HR department must be able to impact a metric. What can you control in connection to the goal? Is the metric you've chosen one that HR can influence or affect?
While attending a SHRM National Conference, I heard a speaker talk about how HR sometimes identifies metrics in which other departments and leaders are primarily accountable for and HR has very little influence over. He discussed how HR owns "red" far more often than we should and I agree. It doesn't mean we have to start playing the "blame game" but we need to stop owning metrics that we have no control over.
That's a part of how well you communicate the information too. I'll come back to this shortly.
Manageable metrics means identifying metrics that we can manage and have that impact!
In addition, manageable means realistic. A realistic metric is actionable. We can do something about it! If it's simple and easy to identify its status, using the colors green for healthy, yellow for warning and red for problem, then we should be able to take whatever action steps are necessary to support or improve the metric.
"Must have" number 3, a metric must be in alignment with the expectations of the organization. In other words, it must be linked and correlated to business performance. Something we all care about.
And the final component, if they are aligned, they are not stagnant!
"Must have" number 4, a metric must be active. It will alert you to a potential change or issue. Remember in a previous lesson I mentioned the speed limit sign with a part that flashes your speed at you if you are going over the limit. That sign is actively assessing your speed and meant to drive behavior. Again, if it's simple and easy to determine the metrics status as being healthy, questionable or a problem, you can take action which will change it making the metric active.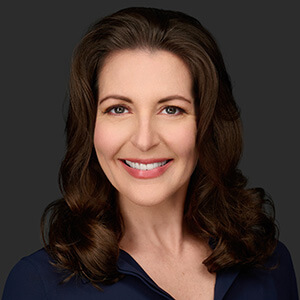 Instructor:
Christina Danforth
Christina A. Danforth, SHRM-SCP & SPHR, launched HR Jetpack in 2016 to support the development and professional growth of her fellow HR colleagues. She started her HR career in 2002....
Christina's Full Bio
HR Courses
Human Resources Training Programs
Self-paced HR Courses
The following HR courses are self-paced (asynchronous), and qualify for both SHRM and HRCI recertification credits. These courses are included in the HR Recertification Subscription.