Lesson Content
So we just spent some time talking about the importance of Engagement during the Talent Acquisition stage, and now we are going to talk about the importance of Engagement during the Onboarding stage.
Engagement during the Onboarding stage is a critical part of the new hires' life cycle. It is believed that during the Onboarding stage, your new hire will decide how long they will stay with your Organization. A recent study conducted by BambooHR found 31% of survey respondents reported having quit the job within their first six months. A top reason given was a poor onboarding experience.
Onboarding is crucial to when an employee becomes a member of the organization's work force through learning about the organization, the benefits it offers, their new job duties, establishing relationships with co-workers and supervisors.
The Onboarding process can include multiple people, such as the likes of us in HR to the IT folks to Operations, to members of leadership, and perhaps even Marketing, and each person will have new-hire Onboarding tasks to complete. It is likely that you, as the HR professional, will be the responsible for creating the Onboarding task list, and from an administrative and compliance perspective, it's crucial that you assign clear ownership to the various Onboarding processes and tasks.
A report, titled High-Performance Onboarding: A New Model for Excellence, prepared by the Brandon Hall Group, a global research firm, includes a summary of the most effective employee Onboarding program elements, those of which are truly essential to retaining your talent. They include Momentum, Enablement, Collaboration, Assimilation, and Connection. Let's look at each one.
Momentum and the important part it plays in Onboarding. What do you think of when I say the word Momentum? For me, I think of words like movement, flow, and consistency. These are all words that can be translated to the Onboarding process. It all starts with pre-boarding.
This refers to when new paperwork is completed and a workstation is ready before the employees' first day. The pre-boarding period sets up the new hire's first day to be well organized and orchestrated. I have had the fortune and misfortune of seeing both sides of the coin as it relates to how prepared an Organization was for my first day on the job. I can tell you that my employer at the time who wasn't prepared for my first day. It really left a negative impression on me. And to be honest, that was a huge indicator of what was too come. The disorganization of not having my desk prepared, phone extension assigned, security badge not created, my new hire paperwork had been lost and the list goes on, there definitely was not Momentum present here. No consistency and no flow of activities.
In stark contrast, The DeVry Education Group, is a great example of an organization that successfully onboards new hires. This group is one of the largest publicly held, global, higher educational institutes based in North America. The DeVry's Education Group can onboard over 100 new employees every month. Their Onboarding program is robust, and is tracked through a technology platform, which eliminates administrative work. Here is a glimpse of what their Onboarding looks like.
During this immersive virtual reality experience, they are introduced to everything from the Group culture and values to company objectives, resources, and colleagues. Plus, as they work through a timed, multi-venue experience, they can chat live with their colleagues.
Communications are sent throughout their first year. These regular check-ins keep the momentum going so the DeVry Group is better enabled to address employee concerns and disengagement. Now let's move onto the second essential element, Collaboration.
What comes to mind when I say Collaboration? For me, I think of people working together toward a common goal. Demonstrating Collaboration during the Onboarding process is crucial. The goal is to show new hires how your organization works, how it makes money, and how the different parts fit together. Essentially, how does your workforce and each department collaborate to perform well.
I have worked in an organization that invited each department head to give a presentation of their role, and how their department relates to the success of the Organization during the Onboarding of new hires. This engagement with the new hires really helped them understand the different parts of the Organization, and their role in it all. It really helped to build a sense of camaraderie and showcased the level of collaboration across the company starting their first day.
The third essential element of Onboarding is Enablement. Perhaps you are wondering how Enablement is an essential element, so let me explain. This entails providing the new hire with the information and knowledge they need to start their job. It also means connecting them to the right resources, so they are enabled to be successful. On the contrary, if the new hire is not provided with the knowledge and the resources, they will feel lost which will lead to frustration which will lead to disengagement.
An Organization that has been noted for its ability to drive engagement and knowledge retention, is Travelport, a leading travel commerce platform that operates in 70 countries. Travelport has a "gamification-like" approach in its Onboarding portal. Using a passport concept, new hires virtually collect "stamps" for their online passport as they interact with the varied information and activities on the site. As they continue to collect stamps, they can view their progress on an interactive map.
Now let's talk about Assimilation, the fourth essential element. To assimilate means to be completely absorbed into something, and thus, a goal of Onboarding is to assimilate the new hire into the organization. It is crucial to have the new hire learn about the intricacies of the Organization, and its culture. This goes beyond processes and practices. Failure to assimilate is not just frustrating for the new hire, but this will also put stress on the person's team.
Zions Bancorporation, a premier financial services company in the United States, assimilates its new hires using technology. Because Zion has a number of locations spread throughout the country, they recognize the importance for new hires to feel connected to the organization in its entirety. Through an automated role-based workflow in the Onboarding process, HR collects new employee data, but also it directs the new employee to resources, and policy acknowledgements. It provides clarity around job responsibilities, and individual and team goals.
Finally, let's talk about Connection. When I think of Connection, I think of the unspoken understanding that two people, or a group of people, have with each other. So when you think about how Connection is relevant to Onboarding, it is important that the new hire establishes connections with their co-workers. These connections will give the new employee a sense of belonging, and it will provide the new employee a look into the overall culture of the organization, thus, resulting in the new employee feeling engaged.
An example of an Organization that has made Connection a priority is California Pizza Kitchen. Their program 'Be our Guest Day' involves new employees sitting together for lunch at their restaurant. They are encouraged to order several things off the menu. And this time together creates the much-needed connection a new hire should establish when starting a new job. And, arguably, the element of Connection is the most important piece of Onboarding. We know when employees develop a strong connection to the Organization, and good relationships with their peers, they are more likely to stay.
On this note, here's something else you may want to consider, perhaps give the new employee a Mentor. I have seen several successful mentor/mentee relationships over the years, and if you have not ever considered a mentor/mentee program, I believe that it is a worthwhile investment.
And if not a mentor, what about an orientation "buddy"? Someone within the facility or department who can help answer those first week questions including but not limited to, can you remind me where the bathroom is? Or, do you know where our staff meeting is being held? It makes for a much more comfortable experience and facilitates the connection you'd like your new hire to establish with teammates.
To wrap this section up, I want to mention something that I just read in SHRM's HR Magazine, five tips on how to improve your Onboarding. You can find these suggestions in the January 2018 edition.
The first tip is to get a jump on things! In other words, when an offer has been accepted, start the Onboarding process immediately. Give the new hire all the paperwork before their first day so they can review it, and thus are prepared with any questions for you. This starts the momentum mentioned previously.
The second tip is to provide the new hire with information related to the Onboarding process. Remember enabling them with information? I was once given an Onboarding Tool Kit and it was super helpful for me to know what the upcoming weeks and months looked like.
The third tip is to have some fun! Rather than have the new hire sit in a conference room just listening to whomever is speaking for hours on end, be creative i.e. turn the office tour into a scavenger hunt. Better yet, some large companies are starting to use virtual reality to not only introduce their new hire to the work environment but also to make the experience more fun and impactful. This technology may be available to your Organization sooner than you think.
The fourth tip is to show the new employee what they can expect. Some companies will put together a Realistic Job Preview, which shows new hires what a day in the life looks like. You could do this, or you can make an informational video with a clip showing day-to-day life, company outings, charity work and so forth. Once again, using technology like virtual reality may be very helpful in leaving a lasting impression.
And finally, tip number five, always ask for feedback. I suspect that a lot of companies do not do this, but asking for feedback on the Onboarding process is so crucial. This input lets you know what to keep doing and what to improve on. And I am sure that this is something that the leadership group will take an interest in.
And to wrap up, I'll say this one more time; remember, you only have one opportunity to make a great first impression.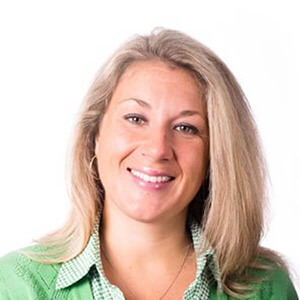 Instructor:
Hayley Buonopane
With nearly two decades in the Human Resources field, Hayley is a subject matter expert with a specialty in workplace planning and development, employee relations, organizational development, and talent acquisition....
Hayley's Full Bio