Lesson Content
Now that we have established the benefits of employee engagement, let's talk about the value of administering engagement surveys. Conducting engagement surveys is a useful way of gathering insight into what is important to your employees, and sometimes it's a lot easier for employees to say how they really feel in an anonymous survey – note the word anonymous, I strongly recommend that you go that route. To develop a survey, you can use a tool like Survey Monkey that is super user friendly.
You may also want to consider building a business case to work with an external vendor. Although this will require an additional budget, bringing in an expert team is very helpful. They are not only highly skilled at developing the right questions but also in providing an analysis of the data.
What can an engagement survey do for your Organization and how will the feedback help your leadership team?
Number one: Provide a measurement of Employee Engagement. Generally, there are several categories assessed by a complete engagement survey including career development, rewards and recognition, job satisfaction, learning & development, pay & benefits, management practices, management communication and work environment. Establishing measurements in these areas, usually key drivers of engagement, will give you and your leaders the data you need to understand whether your employees are engaged or disengaged.
Number two: Gather feedback directly from Employees. In other words, give employees a voice. The survey gives employees a platform to provide their input directly to the leadership team. When employees are actively involved, it gives them a stake in the company. They are one of your main stakeholders from an HR perspective. This opportunity will make them feel valued.
Number three: Taking action! Once your team has the data, you can work with your leadership, managers and even the employees to create an action plan on issues of their concern instead of guessing what the issues are. The feedback will allow the organization to identify strengths, and opportunities. You can then develop an organization-wide plan focusing on the priorities, what changes to initiate, the allocation of resources, and you can create a schedule for implementation and the timing of the process.
Number four: Benchmark Results. Conducting an employee engagement survey gives the organization a benchmark. The information can be compared to industry-specific data. This allows management to gain an understanding of how your organization performs against similar organizations. In addition, benchmarking will allow you to identify whether any issues that may have come up in the survey are specific to your organization or are in fact industry-wide.
Now that we have covered why it is important to facilitate an employee engagement survey, lets now go over some sample questions that you may want to consider asking.
Number one: Can you see a link between your work and the organization's goals and objectives?
Number two: Are you proud to be an employee of your Organization?
Number three: Does your team inspire you to do your best work?
Number four: How satisfied are you with your opportunities for professional growth?
Number five: Do you have a good understanding of informal structures and processes at the organization?
Number six: When something unexpected comes up in your work, do you usually know who to ask for help?
Number seven: Would you recommend our Organization as a great place to work?
Number eight: Do you see yourself working at our Organization in two year's time?
Number nine: How satisfied are you with the working relationship with your manager?
Number ten: In the past seven days, have you received recognition for doing a good job?
You might also want to consider putting these questions in the form of a statement and asking your employees to rate their level of agreement with each statement. For example, rate the following on a scale of 1 to 5, 1 being the lowest at completely disagree and 5 being the highest at completely agree. "I am proud to be an employee of our organization." Or "I recommend this Organization as a great place to work."
As it relates to questions, it is important to ask the right number of questions and not overburden the respondent. I think that a set of ten questions, the right questions, is suffice, however, adding one or two would be perfectly ok.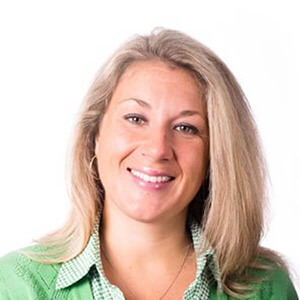 Instructor:
Hayley Buonopane
With nearly two decades in the Human Resources field, Hayley is a subject matter expert with a specialty in workplace planning and development, employee relations, organizational development, and talent acquisition....
Hayley's Full Bio