Course: AI for HR
Module: Challenges
Lesson Type: Video
Lesson Duration: 2:45
Lesson Content
Throughout this course I've stated bluntly that the AI revolution will change people's lives, change the way business is done, and result in the whole world changing. That change is going to happen very quickly over the next decade if experts in the field are to be believed.Change of this magnitude doesn't happen without skeptics of all shape and form coming out to declare that it can't or won't happen.
Some of them doubt the technology can deliver on the promises made by those who promote it and make the claims of its magnificence. Others, perhaps more importantly, are skeptical of whether or not the world will be a better place if they succeed in delivering on their claims. If the AI revolution takes place just as those who support it would have us believe, then would humanity be in a better position? Some of them are instead asking if it should happen?
Perhaps no one is in a better position to publicly ask that question than billionaire founder of PayPal, SolarCity, Tesla, and SpaceX: Elon Musk. Musk represents a vocal minority within Silicon Valley, those who are expressing doubts and fears about the future of Artificial Intelligence. He has on many occasions voiced the need for restraint and oversight so that humanity never loses control over what we are building. In a Vanity Fair article about Elon Musk and Artificial Intelligence startup DeepMind, the author wrote:
"Before DeepMind was gobbled up by Google, in 2014, as part of its A.I. shopping spree, Musk had been an investor in the company. He told me that his involvement was not about a return on his money but rather to keep a wary eye on the arc of A.I.: "It gave me more visibility into the rate at which things were improving, and I think they're really improving at an accelerating rate, far faster than people realize."
Musk was later quoted as saying that "Google could have perfectly good intentions but still "produce something evil by accident". And Elon Musk isn't the only one with concerns… Stephen Hawking, Bill Gates, and many other high profile leaders in science and tech have voiced similar views. I bring all of this up to point out that you can be someone who observes change happening around you without necessarily supporting it.
You can understand an evolution in technology without championing it. Leadership, especially when it involves technology is about being able to inform those around you to the best of your ability of the pros and cons that will come with a decision. The choices that you, as the HR professional, and your organization's leaders will have to make about AI systems in your workplace will likely be very complex and whether you're skeptical of those choices of not, some of your colleagues certainly will be. Their concerns often may be valid, and it will be important that you find common ground. HR is in a unique place to help facilitate these conversations and provide support during difficult changes.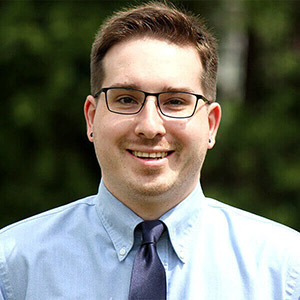 Instructor:
Michael Wilson
Michael Wilson works with small businesses to build and protect their brands online. He is an IT Generalist whose primary services include: Web Design & Development, Cybersecurity Consulting & Training,...
Michael's Full Bio
HR Courses
Human Resources Training Programs
Self-paced HR Courses
The following HR courses are self-paced (asynchronous), and qualify for both SHRM and HRCI recertification credits. These courses are included in the HR Recertification Subscription.