Module: Employee Survey Results
Lesson Type: Video
Lesson Duration: 3:34
Lesson Content
Our third scenario is related to the first one. During the next staff meeting you've been asked to give an overview of the employee survey results. Now this topic has gained a great deal of visibility. Let's open up our professional template. We'll go into the title box and we're going to type in, Employee Survey Results. We'll go down to today's date and let's just say it's September 10th, 2015. We don't want to lose this so let's go to file, click save as and let's say, you're going to save it to your desktop and this time we'll call a Professional Template 4. Now I'm going to move our questions around just a little bit.  We're going to go over the Why and the How before getting into the Who, What, When and Where.
Let's go on to our next slide in the very top we'll hit caps lock. We'll type in, Employee Survey Results. We're going to come back to our agenda. We'll go on the slide number 3 and we'll type in, Employee Survey Results. Let's get rid of the second half of questions that we have here, the Why and How much. We'll get rid of our two text boxes by clicking delete on the keyboard and our right brackets or braces. We're going to duplicate this slide several times. Go up to Copy and we'll click duplicate. Duplicate it 4xs. We're going to need a little bit more time and a couple more slides to illustrate the information that you're going to talk about during this particular staff meeting.
Let's go back up to slide #3. It's important for your team to remember why you conducted the survey. So we're going to subtitle this slide, Purpose. Make sure that your keyboard is off of caps lock. Instead of answering the question, why is the problem occurring or why has the problem occurred, you're answering the question, why do we conduct an annual survey and we're going to use a simple text box to illustrate and highlight your key points.  So first let's expand it all the way over to the 6 in the top ruler.  As you can see right there, make sure it's the same size as our heading just in case we need a little bit more room. We're going to select this text here and delete it. OK.
First let's type, that it's an opportunity to give and obtain feedback for improvement. So let's go down to our Notes section and make that a little bit smaller, make our Notes section a little bigger. Let's go back up to our text here and type, that it provides benchmarking data and we can go back down to our Notes and finally, the survey tells us and helps us to understand what is working well. Right. So it tells us if we're on the mark with some of our current initiatives. It tells us what our strengths are and that those are the particular actions that we should still continue to take as an organization. Now overall, I don't think you need much time here but never hurts to remind the team of the survey purpose.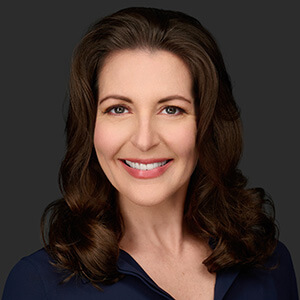 Instructor:
Christina Danforth
Christina A. Danforth, SHRM-SCP & SPHR, launched HR Jetpack in 2016 to support the development and professional growth of her fellow HR colleagues. She started her HR career in 2002....
Christina's Full Bio
Module 1 0/6
Setting The Foundation
Welcome and Course Overview
The Basics
Build a Professional Template
Animations & Clipart
Develop a concise, simple story
Deadly Distractions
Module 2 0/4
High Employee Turnover Rate
Introduction
Who, What, When, Where?
Why?
How and How Much?
Module 3 0/4
Interview Process Update
Introduction
Who, What, When, Where?
Why?
How and How Much?
Module 4 0/4
Employee Survey Results
Introduction
Why?
How?
Who, What, When, Where?
Module 5 0/5
Presentation Review & Delivery
Introduction
Viewing the presentation
Reviewing the presentation
Presentation Pointers
Sharing the presentation
Conclusion
Quiz
HR Courses
Human Resources Training Programs
Self-paced HR Courses
The following HR courses are self-paced (asynchronous), and qualify for both SHRM and HRCI recertification credits. These courses are included in the HR Recertification Subscription.