Lesson:
Global Principles
Lesson Content
As we move deeper into the course, we will start to tackle more of the specific methods and actions you can take to improve your cybersecurity. You will notice a few recurring themes that are touched upon in nearly every section, and these principles are important to cover first and foremost. If you follow these guidelines, you will be far safer and more secure than the average person.
The number one rule is to stay updated. In nearly every case, the latest version of any operating system, app, or software package is going to be the safest to use. With each improvement, developers are eliminating potential vulnerabilities or exploits and attempting to make a safer product. I have a colleague in HR who explained how frustrating it could be to have to accept those "updates" at the end of a day. However, the further behind you fall, then the more likely you are to be taken advantage of by an attacker who sees the out-of-date system as an entry-point. IT departments are typically responsible for overseeing this process inside of the workplace, and often have their own challenges regarding budgets to make it a reality. On a personal level, make sure that you are doing everything possible to keep the devices you use up to date. Every update is improving your odds of staying safe.
The second rule is to compartmentalize. Whenever possible, limit access to critical data and separate storage of files categorically or by value to the organization. Try to keep highly valuable research, confidential employee files, and proprietary information separate from common, broadly used templates or other basic documents. Follow the principle of least privilege, and only give employees access to the files they need.
In the case of a breach, you want the attacker to have access to as narrow of a slice of the overall data as possible. If every employee has access to what they need, and only what they need, then your risk profile is considerably less than if everyone had shared access to the same drive, database, or other pool of data.
The third and final rule is to lock down everything. You should be the only person who can open or access your devices and accounts. Although I know it's tempting, don't share passwords with fellow HR Managers. By following optimal security measures, you should be the only one who can open your smartphone, log into your computer, access your email, and so on. If someone else is able to access your devices or accounts easily, then the risk of an attacker being able to do so also increases dramatically. In the next sections of the course, we will look at how best to protect and secure your accounts and devices.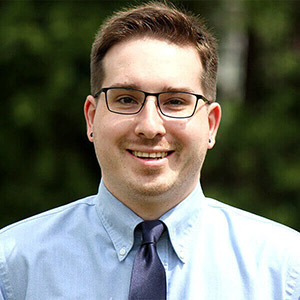 Instructor:
Michael Wilson
Michael Wilson works with small businesses to build and protect their brands online. He is an IT Generalist whose primary services include: Web Design & Development, Cybersecurity Consulting & Training,...
Michael's Full Bio
HR Courses
Human Resources Training Programs
Self-paced HR Courses
The following HR courses are self-paced (asynchronous), and qualify for both SHRM and HRCI recertification credits. These courses are included in the HR Recertification Subscription.