Lesson:
Great Organization Examples
Lesson Content
Picture your home town. Now, picture the busiest location in your home town, the area with the most hustle and bustle. Got it? Good. Let's say you and I walk together in that spot and ask 100 people who they believe is the greatest seller of soda products in the country.
Depending on where your hometown is you may get different answers to that question. If you live in the South, my guess is that a simple majority of the people would say Coca-Cola and the other large minority would probably say Pepsi.
Perhaps if you were in another geographic location the simple majority may say the opposite. But more than likely it would be one of these organizations. Again, no hard data to back this up, just a hunch. The soda industry is one industry with really two main players competing for customers. Of course, there are other competitors in the soda industry, but I think we would all agree that these are the top two.
Other industries are not so nice and tidy with only two main players. If we were to conduct the same experiment and walk to the same location of your hometown, but this time ask 100 people who is the top manufacturer and seller of automobiles globally, what do you think the responses would be?
Some may say, "Honda." Others, "Hyundai." "Toyota!" some would shout with confidence! Yet others, "GM." "Ford." "Chrysler Jeep." The list goes on and on.
The automobile industry is one that is saturated with multiple companies all competing for sales. In actuality, the company that has sold more vehicles than any other in the last ten years is one that most people, in the United States anyway, would fail to mention.
For years, it was Volkswagen. However, for the first time in a long time Toyota barely edged them out according to a September 2016 report from Forbes. So, if 80-90% of the people we ask say one of the companies less than 10% of the time, are they really great?
All the companies we've listed here are fine organizations for sure. All of them have great profits, great market share, and have been around for a long time. But these do not necessarily make an organization great in the eyes of consumers. Let's do this again with another industry.
If you were to ask 100 people, who is the top manufacturer and seller of athletic apparel in the world today, what do you think the responses would be? My guess is that at least 80-90% of the responses would be exactly what you are thinking. Nike.
Nike is not short of competition. Adidas, Under Armor, Russell, Puma, Umbro, Galloway, Wilson, and countless others are all in direct competition with Nike. So then, what makes us so confident that if we were to ask 100 people who is the greatest manufacturer of athletic apparel that they would say "Nike?"
When Phil Knight started Nike he was on a mission. He had a very clear Vision of the reason for Nike's existence. It currently has the vision statement to be "the number one athletic company in the world," and in the 1960's was simply to "Crush Adidas."
They believed in the 1960's that it was their reason to exist to "Crush Adidas" and in turn the rest of the competition. I asked my father what shoe he wore growing up. He had an interesting answer. He had his everyday shoes, Keds.
But he also had his "game day shoes." The game day shoes were the ones my Grandmother, Pearl, told him she never wanted to see them on my father except on game day "inside." Those were the classic Converse All-Stars.
Converse today is a Nike Brand. The coveted coat of my youth in the early 1990's was the classic Starter brand. Today, Starter is a Nike company. Everything Nike does is to fulfill this vision, to be the best and to crush their competition. This is communicated down to the lowest levels of employees at the company.
Starbucks is another example of this concept. I'm confident that if our question was asked to the same 100 people in your hometown that 80-90% of people would name Starbucks as the greatest coffee company in the world. Starbucks, love them or hate them, is THE reason your coffee aisle in your local supermarket looks the way it does.
Howard Schultz, Starbucks CEO, single handily transformed the coffee industry in this country from large tins of pre-ground coffee to the gourmet, multi-variety industry that it is. Prior to Starbucks, the coffee aisle was essentially tins of bland coffee with a few players. Today, you can walk down the aisle and there are as many varieties and flavors of coffee as there are bars on Bourbon Street.
How did they do this? How did Schultz build an organization that makes us so confident that 80-90% of the people in your hometown would say that Starbucks is the greatest coffee in the world? I ask this question to every class of Change Management I conduct and all of them answer in unison, "Starbucks."
I've also conducted workshops on leadership and change management and ask the same question. I've conducted my workshops in urban and suburban areas with Starbucks literally next door or down the street and in rural areas where there isn't a Starbucks for 50-100 miles. Some of my participants had never even been in a Starbucks in their entire life, yet they know they are the best coffee organization.
Starbucks has a very clear vision, reason for their existence. It's not to "make the best coffee,". Their reason for existence is this, "To inspire and nurture the human spirit, one person, one cup, and one neighborhood at a time."
I spend a lot of time in Starbucks cafes. I see many people there but only those individuals can say whether or not they are inspired by being there. People come to Starbucks for multiple reasons: college students to study, construction workers for a break from the cold, retirees reading a newspaper, and professionals "working" remotely. Are all these people inspired to complete their tasks? Only they can answer that I suppose, but all these people choose to come in, in hopes to be inspired. Why did they come here? Why not the independent café on the next corner that I can literally see through the Starbucks window?
In his book "Onward," Howard Schultz tells the story of a police officer that was living paycheck to paycheck during the height of the recession of the mid-2000s. His wife asked him to cut his "Starbucks budget" for the extra cushion they needed each month. He then shared with his wife why they needed that money in his budget. As a police officer he would see and deal with very troubling issues each day.
The 15 minutes he spent each afternoon at his local Starbucks wasn't about "coffee". He could get coffee from the break room at the station. It was 15 minutes of entering a non-chaotic atmosphere where baristas knew his name and he could sit in a comfy chair to then hit the beat again. For him it was therapeutic, to get through the rest of his day. Starbucks fulfilled their vision or mission with this police officer. All employees (Starbucks calls them "Partners") know this vision and more importantly their role in assisting Starbucks fulfill its mission in their communities.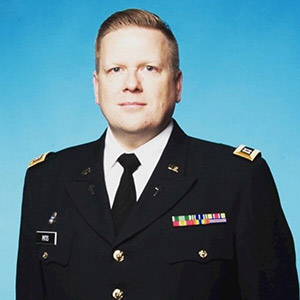 Instructor:
Scott Pitts
Scott has spent nearly two decades in the human resources, learning and organization development professions. Scott has led multiple organizations and has taught hundreds of students on effectively creating and...
Scott's Full Bio
HR Courses
Human Resources Training Programs
Self-paced HR Courses
The following HR courses are self-paced (asynchronous), and qualify for both SHRM and HRCI recertification credits. These courses are included in the HR Recertification Subscription.