Lesson:
New Actors and Changing Roles
Lesson Content
Introducing Artificial Intelligence into our economy and workplaces is going to be messy because machines and software aren't people. We often look at the cause and effect of AI in terms of jobs, naturally, however the harder thing to understand is that with these next-generation software tools will also come a complete overhaul of the way previously ordinary and routine experiences took place. When a person is no longer part of a chain of responsibilities or tasks, and computer systems take over, they don't just do it the way the person would have. They can do things in new and potentially revolutionary ways.
So as Blockchain-empowered infrastructure is built to support 21st century businesses, many engineers and leaders will begin rethinking how these new systems could function most optimally if they were no longer under some of the same constraints that a person were.
So, here's a thought… what would you say to the idea of giving a robot a wallet? Does a machine need the ability to make purchases? What about, let's say... a driverless car or truck?
In the next few years they will be filling roads around the world. They will need to stop periodically to recharge their batteries, probably at stations that will charge the owner or operator of the vehicle, which seems like a great use-case for a blockchain wallet.
They'll also need to be able to pay for road tolls, ferries, or other traveling expenses. And those same vehicles could potentially run their own diagnostics to determine when they need maintenance or repairs and drive themselves into a service station.
Of course, all of this could and would still be monitored and managed remotely by the owner, but it would be critical to the success of the environment that the vehicle be able to make its way through the world on its own without getting stuck or impeded in such a way that the owner ever needed to go out to where the vehicle was and deal with that problem in-person.
This same thought exercise is taking place all over the world wherever organizations see a big influx of AI development alongside their software systems, assembly lines, or other machine infrastructure.
As they anticipate more automation, they are thinking about how that automation could be done, how those systems will interact with each-other internally and potentially even with other external systems or organizations.
Artificial intelligence seems poised to be a defining part of 21st century life, but there are clearly hurdles in the way of adoption and success in many areas. Blockchain infrastructure is seen by many to solve some of the security and logistical concerns with AI networks.
By building an AI system on top of a blockchain foundation, you could achieve a more stable, better functioning platform. And that's exactly what many researchers and developers are currently in the process of working on. Over the coming years I expect to see many next-generation software developments to contain those two key elements together.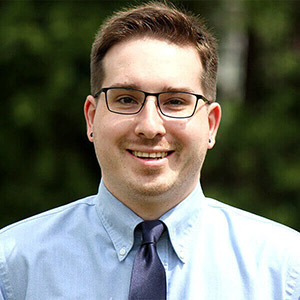 Instructor:
Michael Wilson
Michael Wilson works with small businesses to build and protect their brands online. He is an IT Generalist whose primary services include: Web Design & Development, Cybersecurity Consulting & Training,...
Michael's Full Bio