Lesson:
Managing the Transition
Lesson Content
One of the greatest challenges facing organizations today, particularly small and medium enterprises, is how to keep pace with technological change. In an increasingly global economy, technological shifts can quickly reshape entire industries and only the most nimble or forward thinking may remain. So with that in mind, here's a model for how you and your organization can operate to reduce the risks of being blindsided by the changing landscape of technology. Now is the time for you in HR to put on your "change management" hat.
You can start by actively planning for the next-generation. Always be looking ahead. That doesn't mean that you need to get carried away, but it is vital that you know what the next stage of your business will look like and the role that technology will play.
Add this topic to the agenda of your leadership team's next strategic planning session. Make sure that you have well-informed players in the decision-making roles who are not only well-suited for the world of today, but also the environment of tomorrow and are capable of leading your organization to achieving your goals. Remember the importance of succession planning.
Next, update outdated systems. Crucially, don't just update those systems to new versions of the same architecture that you have. Ask hard questions about whether the IT infrastructure that you have in place is serving the needs of the organization today and tomorrow. Have a candid conversation with your IT leader. Why not ask questions and be better enabled to provide the support IT may need from you in HR to build a better business case?
The systems of the future need to be modular, compatible with many different kinds of devices, and able to connect to many 3rd party networks. Sometimes you don't just need an update, you need a rework.
Once you've worked with your team to start updating systems, define a roadmap.
Whether you are considering blockchain technology or any other emerging development, it is critical that you collaborate with your leadership to outline a process and task a team with doing the research that's necessary to get started. Find the right use cases for your organization and perform the cost-benefit analysis to determine if it can be the right fit. Only then can you begin to organize a formal plan to integrate the new technology into your formal business plan.
Finally, it's always imperative to find strategic partners. You aren't alone in any pursuit of new technology or business goals, especially in HR. There are always opportunities for collaboration, trials, or joint-ventures. Creative solutions are often some of the most successful and cost-effective. It is all about finding the right people.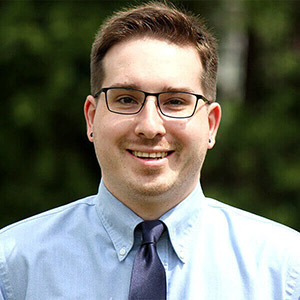 Instructor:
Michael Wilson
Michael Wilson works with small businesses to build and protect their brands online. He is an IT Generalist whose primary services include: Web Design & Development, Cybersecurity Consulting & Training,...
Michael's Full Bio