Lesson:
Emotions and Aggression
Lesson Content
Christina: Stacey let's do a role play based on another concept from the course, emotions and aggression. You tell use that it's appropriate to ask questions. I'm going to put together a scenario here. A situation with, I'm sure, you've come across many times, that a manager is not effectively managing. So I come to you and I say, "I just don't know what to do anymore. We have a really great team but Jamie does not give us clear direction. He doesn't want to look at our proposals before we start the project, and then will interject with suggestions and changes after we've already put in a considerable amount of research and information. It seems to me, and all of us, that it would be a lot more effective if we could brainstorm the possibility before we move forward and don't have to redouble our efforts."
Stacey: Wow, that seems incredibly frustrating. How long have you been feeling this way?
Christina: I don't know exactly. I would say, ever since January of last year I guess, about the time the divisions merged.
Stacey: And before that time was Jamie more hands on would you say?
Christina: Yes, I'd say he was. He would come to meetings and bounce some ideas back and forth and then select a plan that had the best chance for success and give us the go ahead.
Stacey: So at that point you felt he listened to your ideas and acknowledged what had the most potential?
Christina: Yes, he felt like he was part of the team. We felt he was working with us. Now he seems like an obstacle….just waiting for us to fail.
Stacey: Do you think that is the case, that he's waiting for you to fail?
Christina: Well, I mean, that's probably a strong word. Maybe not, fail. It just feels like he doesn't value our time and effort.
Stacey: Have you said anything to Jamie about how you feel and the team?
Christina: What am I suppose to say….do your job better?
Stacey: What do you want to say?
Christina: Well, that's kind of what I want to say, "do your job better".
Stacey: So that's definitely one option. Another, keeping in mind the outcome that you want, might be what?
Christina: Well, I want to say that the team feels frustrated that we are wasting time and energy by doing things two or three times when with his involvement earlier we could do what he wants right the first time.
Stacey: So it's interesting as you came in here with a complaint about Jamie's management style, but in a way it's a compliment to say that his input is valuable to the team. So I wonder if there's a way to convey that message that'll help you get the result you want? Is that something you'd feel comfortable talking with him about, or do you want me to intervene?
Christina: I guess I came in here hoping that you'd handle it but I guess I could think about how I, or we as a team, might be able to address it.
Stacey: Would it work for you if we both gave it some thought and discussed the options on Monday?
Christina: Yeah, I mean, that'll work. I'm just afraid of upsetting him and having things get more tense and dysfunctional.
Stacey: Well, that's absolutely a reasonable fear, but we'll figure out the most optimal way to proceed and be able to move forward in a way that protects you and the team and helps…helps communicate to Jaime what this conversation is really about which again is having to shared mission for a desired outcome.
Stacey: So that's the end of this role playing and it went in a very positive direction which not all of them do. But for the sake of this example, it was keeping the responsibility on the person who has the issue to keep clarifying the issue and get to the root cause. So if you come in with the attitude of wanting to punish the person who isn't up to snuff and you're not able to shift that, you're not going to get to the desired outcome. And, at least this way, it gives you a more positive, optimistic, hopeful groundwork in which to engage in a conversation that's going to be of a more dynamic dialogue then an emotional free for all. Does that make sense?
Christina: It does. Fantastic!
Stacey: Good!
Christina: Great! Thank you!
Stacey: Thank you!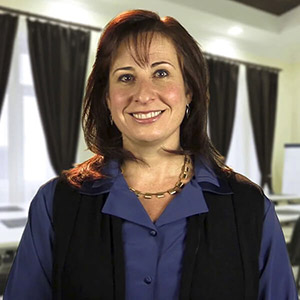 Instructor:
Stacey Zackin
If Stacey were a Super Hero, she'd be The Status Quo Buster. With 15+ years of experience in human behavior, management, and entertainment, Stacey merges psychology, strategy, and imagination to...
Stacey's Full Bio
HR Courses
Human Resources Training Programs
Self-paced HR Courses
The following HR courses are self-paced (asynchronous), and qualify for both SHRM and HRCI recertification credits. These courses are included in the HR Recertification Subscription.