Lesson Content
Christina: You also discuss having a shared mission. You talk about disclosing information and painting a picture. So what are steps you can take to involve the other party in your mission? How would you recommend doing this?
Stacey: This might be the easiest of all elements as you just have to state what your goals and expectations are, whether it's a specific conversation in the moment or a long-term project or cultural vision for the organization. One of the biggest mistakes we make is assuming people know what we want. It has been proven again and again, that people desire, and are more effective if they know what is expected of them and if they believe other people appreciate their value, acknowledge their contribution and are invested in their success. This is something that needs to be consistent over the long-term, yet doesn't require a lot of time or energy. You know the cliché "Information is power" is true and a manager and leader's job is to empower their people. So help them to see and get excited about their role in the bigger picture by offering positive feedback on what they are doing, offer constructive feedback on how they can improve, and create a safe and supportive space for them to offer up their opinions, ideas and potential innovations. And it's all directed towards a shared mission. Everyone wants to know if the cog that they are working on, how does it fit in into the bigger product.
Dynamic dialogues are really microsomal reflections of this type of macrocosmic culture. And in terms of the conversations themselves…you can start with the agenda. "I wanted to have this conversation because I wanted to see how you are doing, and if there is anything that will make you feel more productive and satisfied with your work." Or, "It has come to my attention that your performance isn't as strong as it used to be and I'm wondering if something is going on that is getting in the way of the enthusiasm and focus that you demonstrated in the past."" That way you set up the shared mission of their success, even if it isn't immediately seen that way because you are identifying a weakness or a fault. But communicating a shared mission is also effectively done through storytelling as we discussed. You can share stories about the company. "When this company started everyone was so engaged in every part of the business. We all took such pride and ownership of what we were doing. I remember my friends and people I used to work with envying the teamwork we displayed and the innovations we were working on. Now that we've become so successful and so big, that there are some people don't even know what is happening in other departments let alone the people who are making it happen. Obviously, success and growth is a good thing, but I'm wondering how we can recapture that sense of engagement and enthusiasm across our divisions?" In this example, the vision of the past is used as a launching pad for a vision of the future which then becomes a shared mission. So use stories to paint a picture and invite people into that picture and then identify what paint brush or color they're going to be using to contribute to the picture as it continues to evolve.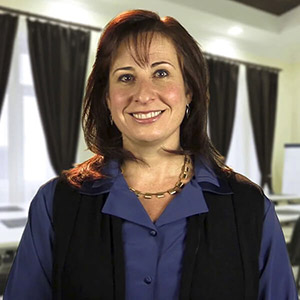 Instructor:
Stacey Zackin
If Stacey were a Super Hero, she'd be The Status Quo Buster. With 15+ years of experience in human behavior, management, and entertainment, Stacey merges psychology, strategy, and imagination to...
Stacey's Full Bio
HR Courses
Human Resources Training Programs
Self-paced HR Courses
The following HR courses are self-paced (asynchronous), and qualify for both SHRM and HRCI recertification credits. These courses are included in the HR Recertification Subscription.