Lesson:
Mitigation and Escalation
Lesson Content
Christina: So moving on to the Mitigation and Escalation concepts - can you tell us more about these concepts – what they are and when to use them?
Stacey: Absolutely. Often when there is crisis the assumption is that the best strategy is to try to mitigate, or reduce the force and intensity of the dialogue…and often that is a good instinct as you want to prevent things from getting messier or escalating. But on a rare occasion one needs to increase the intensity or escalate the magnitude of the tone in order to match the energy of the other party and convey an equal amount of importance or urgency or for lack of a better word power. If someone comes at you with a high force you need to decide if they will respond better to a calm and understanding tone or if they'll be more responsive to a volatile reaction. For example, I made a judgment call that I thought was in the best interest of my organization I was working at at the time. The next day I was brought into the Executive Director's office and sat there while a colleague stood over me and yelled and screamed that I undermined his position with his staff. It was irrelevant to whom that the decision I made had a good outcome and avoided what I believe would have been a chain of disruptive consequences. I tried to rationally explain the motivation behind my actions and the desirable results it achieved but he was using both his auditory and physical largess to put me in my place. So I'm sitting in a chair. He's standing over me. I'm being calm and what I thought was reasonable and he's being intense and super passionate about what he was talking about. As the Executive Director was listening, he wasn't engaging. He wasn't trying to calm him down and in that moment all I could do was escalate my level engagement to claim my ground. So I stood up. I yelled back that in the moment I did what I thought had to be done. That a, b, and c, might have resulted if I didn't intercede and if I had to do it again, I would do it the same way. Only then, when I expressed myself with the same amount of energy and conviction, did the Executive Director intervene to say that he agreed that I made the right choice.
Christina: Wow. I can just picture such an intense scene. I mean, talk about a truly dynamic dialogue. Interesting…
Stacey: Yes. It's a tool to be used sparingly but it's one you should have in your toolbox and if possible, only take it out in privacy. That would've not gone well if members of either of our staffs could've heard us.
Christina: Yes. Absolutely. Wow.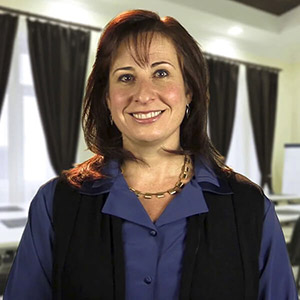 Instructor:
Stacey Zackin
If Stacey were a Super Hero, she'd be The Status Quo Buster. With 15+ years of experience in human behavior, management, and entertainment, Stacey merges psychology, strategy, and imagination to...
Stacey's Full Bio
HR Courses
Human Resources Training Programs
Self-paced HR Courses
The following HR courses are self-paced (asynchronous), and qualify for both SHRM and HRCI recertification credits. These courses are included in the HR Recertification Subscription.