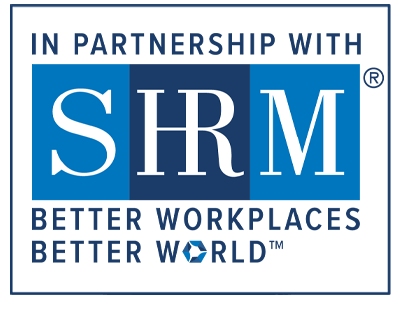 SHRM Talent Acquisition Specialty Credential
An online program dedicated to Talent Acquisition

NOW OFFERED WITH ENROLLMENT
$200 off normal price of $1,699 (now only $1,499)
Bonus Course #1: Recruiting Strategies to Hire the Best Candidate
Bonus Course #2: Behavioral and Situational Interviewing

SHRM Talent Acquisition Specialty Credential Program
Distinguish yourself and demonstrate the critical role you play in attracting and retaining the key to every organization's success—talent. Prove your talent acquisition proficiency by earning your SHRM Talent Acquisition Specialty Credential.
Offered in partnership with the Society for Human Resource Management (SHRM), our talent acquisition program is designed to help you learn and retain the material effectively and efficiently by combining the SHRM eLearning system with expert instruction and peer discussion.
This program includes:
16 hours of live, online, instructor-led talent acquisition training.
6 self-paced comprehensive SHRM eLearning courses on talent acquisition:

Analytics
Getting the Candidate to Say Yes
Global Hiring
Onboarding
Technology and Social Media
Trends

SHRM Talent Acquisition Specialty Credential (after passing 50-question online assessment).
25 SHRM PDCs (for SHRM-CP & SHRM-SCP credential holders).
Next Available Class
| ID | First Session | Last Session | Sessions | Days | Time |
| --- | --- | --- | --- | --- | --- |
| P4-003 | Jan 11th, 2022 | Feb 15th, 2022 | 11 | Tues & Thurs | 8pm-9:30pm ET |
Modules:
Analytics
What role should analytics play in Talent Acquisition? The Talent Acquisition: Analytics module defines metrics and analytics and explores the use of each through practical examples. The first section defines key metrics, provides formulas, and includes real-world examples. The Analytics module introduces a robust people analytics model, featuring the Four Stages of Analytics.
Getting The Candidate To Say Yes
The Talent Acquisition: Getting the Candidate to Say "Yes" module introduces the elements of negotiation and provides key techniques for developing your negotiation strategy. The module then introduces the 5 negotiation styles from the recruiter and candidate point of view and walks through a series of interactive role plays.
Global Hiring
As the war for talent grows, more employers are looking to recruit and retain global workforces. The Talent Acquisition: Global Hiring module provides a high-level understanding of concepts and principles used when recruiting and retaining global talent. This module provides a broad understanding of the legal and compliance requirements for hiring non-U.S. citizens both within the U.S. and abroad.
Onboarding
The time immediately after hiring an employee provides a critical opportunity to create engaged employees. The Talent Acquisition: Onboarding module provides ten proven strategies for creating high-quality onboarding experiences. The module delves into the importance of onboarding to Talent Acquisition professionals while providing easy-to-implement ideas that help new employees feel oriented to your organization.
Technology And Social Media
The Talent Acquisition: Technology and Social Media module introduces learners to a variety of technologies and their use when identifying, recruiting, and onboarding new employees. This module explores social media and the important role it plays in social recruiting. The Technology And Social Media module also looks at the advantages and disadvantages of certain technologies and steps for implementing technology effectively.
Trends
The final module, Trends, goes over the current trends in Talent Acquisition.
Frequently Asked Questions
Can I earn recertification credits taking this course?
Yes, 25 SHRM PDCs (for SHRM-CP & SHRM-SCP credential holders).
How long is the course?
The live, online, instructor-led sessions are a total of 16 hours, broken up into 11 sessions.
How do I attend the class?
Online. You will be given a link to attend the class online.
Enroll
Choose Expert Leadership and Guidance
Enrolling in our course is one of the most effective ways to show organizations you have the knowledge & skills to hire the best candidates.
Learn from an experienced instructor who already has their SHRM Talent Acquisition Specialty Credential.
Network, share experiences, and discuss topics with a diverse group of HR professionals online.
Stay on track with a structured learning experience and support.
Register now for only $1499. Classes fill quickly and space is limited.
Don't delay your HR career development. Now is the time to demonstrate the critical role you play in attracting and retaining talent. It's easy to register.
Have questions? Contact us today.
"What I love about the SHRM Talent Acquisition Specialty Credential is that it exposes HR pros to a great opportunity to develop themselves for future promotion. Having a Talent Acquisition skill set is a differentiator when it comes to hiring HR leaders, and organizations are desperate for great leaders who understand how to leverage the TA function to drive business success."


- Timothy Sackett SHRM-SCP, SPHR, Executive Vice President, Technical Resources and President of the Association of Talent Acquisition Professionals (ATAP)